Download trial versions:
FBDataGuard 2.8 Trial for Windows (and Firebird 1.5-2.5)
FBDataGuard 2.8 Trial for Linux (and Firebird 1.5-2.5)
Download User Guide: FBDataGuard User Guide (PDF, English) FBDataGuard Guia do Usuário (PDF, Portuguese)


FBDataGuard is a server-side tool to monitor Firebird databases and prevent corruptions. It watches for databases and server environment, performs backups in right way, gathers statistics and sends alerts about actual and possible problems.


FBDataGuard is intended to be automatic maintainer and administrator assistant for important Firebird databases, especially at remote locations and being bundled with Firebird-based software. Also it can be used for advanced database recovery of protected database in case of heavy corruption (e.g., caused by hardware failure).
FBDataGuard is designed to provide stability and confidence in business-critical Firebird databases:
prevent outages and corruptions,
reduce downtime and performance problems,
monitor database health and automate maintenance,
provide alerts and recommendations.
FBDataGuard has embedded web-console where server and database statuses are shown:
FBDataGuard is intended for use in production environment, especially in the following cases:
Databases with business-critical data inside

Large databases

24x7 databases

Databases without administration support

Databases at remote locations
FBDataGuard web-console can be accessed from desktop and mobile devices: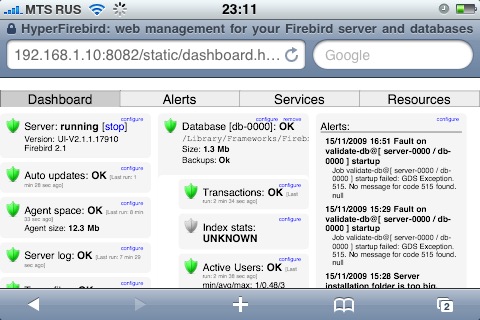 Licensing
Per Server
FBDataGuard Per Server license is a permanent license to use at the single server (re-installations by request) - EUR 149.

ISV Unlimited 1 year subscription - EUR 990


FBDataGuard ISV Unlimited 1 year subscription is specially designed for software vendors who want to supply their customers with convenient way to automate backups, monitor database health and protect against corruptions.


For companies which produce Firebird-based software and need to protect a lot of installations, IBSurgeon offers unlimited 1 year subscription for FBDataGuard for fixed price.

"Unlimited" means that there is no restrictions on how many FBDataGuard instances will be installed, and also it means that installed instances will work permanently.
"1 year subscription" means that subscriber can install, reinstall and upgrade FBDataGuard installations during subscription period.

It's important to notice that though number of installations is unlimited, each FBDataGuard should be registered and activated.